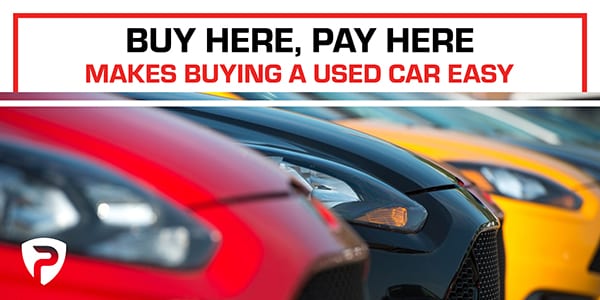 We get it, buying a car is a big investment. Whether you're in the market for a pre-owned car, truck, or SUV, it may be challenging to envision how you might be able to make it work financially. Maybe you're a first time buyer with no credit or you have owned several cars in the past, but either way buying a vehicle is a big financial leap. Financial hardships happen and can cause a low credit score, but this doesn't mean there aren't other options available to finance a used vehicle! Let's unleash how you can get financed even if you have bad credit.
How Can I Buy a Car with Bad Credit?
Know Your Credit Score Ahead of Time
First and foremost, you should know what your credit score is before you begin your search for a used vehicle. It's a possibility that your score has changed since the last time you checked, so be sure to run a credit report to benchmark where it stands as of current.
If you're not sure where to start, many used car dealerships have connections with credit institutions and will work with you to get the best financing option for your individual needs.
Work to Rebuild Your Credit
Working to rebuild your credit can also give you a leg up in the financing process. There's always room for improvement, so might as well start now! Continue working to pay down any debts on time to help recover your credit score.
Get Pre-Approved
Used car dealerships will work with you to get pre-approved and often have an application to do so. Filling this out prior to sitting down with a dealership financial expert is ideal to have your ducks in a row ahead of time.
Set a Budget
It's important to set a budget and stick to it when buying a used vehicle. Consider all factors and set a budget that is within reason and affordable for your individual needs. Pre-owned car dealerships usually offer a lot of vehicles under $10K, vehicles under $15K, and bargain inventory that can help you stick within your budget parameters.
How Can I Get a Car with No Money Down and Bad Credit?
Bad credit and no money to put down on your next vehicle? No worries! There are a few ways you can work around this and still get a used vehicle to navigate to and fro.
Pay Your Bills
As mentioned previously, it is key to continue paying your bills on time each month. Doing so can only help your credit score.
Stay at Your Current Job
If you're looking to purchase a pre-owned/ used vehicle, and have no downpayment and poor credit, stay at your job for as long as you can. When getting an auto loan approved, lenders like to see a decent duration of employment. You are less likely to get approved if you're constantly shifting jobs and you held the jobs for short amounts of time. Banks like to see that you've held a consistent position for at least two years.
Stay at Your Residence
Lenders also look for consistency in your residency and prefer to see at least a year at one location.
Buy Here Pay Here Allows You to Do Everything Right at the Dealership!
A Buy Here Pay Here dealership is a car dealership that handles the arrangement of your loan and payment plan on-site when you purchase the vehicle. The Buy Here Pay here financing method is a convenient way to dot your i's and cross your t's right at the dealership with the help of the car dealer you choose. The car dealership can work with you through the entire process and clear any past or current loans you might have. Buy Here Pay Here dealerships are sometimes referred to as no credit car dealerships.
BHPH Dealerships Have Certified Pre-Owned Vehicles
Buy Here Pay Here dealerships have a large selection of certified pre-owned vehicles to choose from so you can have confidence that the vehicle you choose has been tested for quality and safety before it even pulls up to the lot. Certified pre-owned vehicles are typically refurbished models that have been inspected for repairs and damage prior to being sold at a dealership.
How Can I Get Guaranteed Financing at a Used Car Dealership?
Guaranteed financing refers to a car dealer getting customers financed for a vehicle regardless of their credit score. This method is great for those who have poor credit history or no credit at all. This is offered at Buy Here Pay Here dealerships that do financing on-site. Required documentation may differ from dealership to dealership, but they typically require a valid driver's license or photo ID, proof of income, proof of residence, five references, auto insurance information, trade, title, and registration, and proof of insurance.
The Buy Here Pay Here Finance Program Makes Buying a Used Car Easy at Prestige Auto Mart!
Here at Prestige, we offer our very own Buy Here Pay Here program, enabling you to drive off in the car of your dreams no matter what your financial history. You can say farewell to the challenge of getting car loan approved, and hello to a seamless car buying experience. We're not like traditional banks, credit unions, or even financing institutions because we work to get you financed no matter what your financial background. That's right! Our expert finance department works to get you financed no matter what past challenges may have impacted your current financial state. Our goal is to make the process that much easier and take the stress off your shoulders when buying your next used/ pre-owned vehicle.
Of course the process may seem daunting, especially when you have found just the right vehicle, but now have to get down to the nitty gritty. At Prestige, we do things a little different than those other financial programs.
I Filled Out a Finance Application, Now What?
You can check the first step off your list! Now that you've filled out the finance application, you're one step closer to owning the certified pre-owned car of your dreams. Next, you can make an appointment with one of our expert finance representatives who will walk you through which financing options might be most suitable for you. The credit unions and financial bureaus we work with here at Prestige offer competitive rates to ensure you will get financed and on your way!
Whether you're on the hunt for a vehicle under $10,000 or have a specific make and model in mind, having bad credit shouldn't deter you from browsing. At Prestige, we have over 750 cars in stock ready to take home that fit anyone's budget from $10,000 to $30,000! So if you're looking to shop at the best used car dealer in Rhode Island and Massachusetts, we welcome you to come on down to Prestige!